St. Lucia is an ideal location for a romantic trip because of the island's gorgeous highlands, mineral hot springs, and whale-watching opportunities. It's possible for couples to spend their days sunning on the beach, scuba diving, or relaxing in a hot tub overlooking the ocean. So, if you're thinking of taking a romantic Caribbean vacation with your sweetheart, you've found the perfect resource. We've taken a trip to St. Lucia to check out the best hotels and see how they stand up against the others. To get you started, we've put up a list of our favorite romantic spots in St. Lucia.
JADE MOUNTAIN, SAINT LUCIA
This beautiful resort-within-a-resort blends seamlessly with nature and is a hopeless romantic's dream, perched on a slope that disappears into the ocean. The Pitons, St. Lucia's spectacular volcanic peaks, and the island's coastline can be seen from the hotel's perch atop Anse Chastanet, thanks to the island's mountainous geography. One of the first buildings to offer swimming pools on every floor, this boutique retreat has been awarded the best Caribbean resort in both Travel + Leisure and Condé Nast's Readers' Choice Awards. Immerse yourself in the gorgeous surroundings.
The Jade Mountain Club is a fine dining establishment with a breathtaking setting. An award-winning chef, Allen Susser, uses bold Caribbean flavors in his seasonal dishes to create modern fusion food. The shifting colors of the sky are reflected in the infinity pool, which is surrounded by acoustic musicians. Sunsets and stars may be enjoyed from the Celestial Terrace. It's just a short walk away from Anse Chastanet, which has two beautiful beaches and non-motorized watersports, so you can eat at any of the restaurants there.
In place of stuffy corridors, private sky bridges take guests to luxurious sanctuary suites with king-size beds, sitting areas, bathrooms with rain showers, and balconies with views that rival those of a fourth wall. Observe hummingbirds flitting amid tropical flowers as you awaken to the sound of birdsong, free of radios or televisions to disturb your tranquility. The Sky Jacuzzi Rooms include a big Jacuzzi, while the other suites have an infinity pool. All suites have butler service available 24 hours a day.
TI KAYE VILLAGE, SAINT LUCIA
On the island of Saint Lucia, Ti Kaye Resort and Spa is a laid-back, four-star, all-inclusive resort. In addition to a spa and two restaurants, this exclusive resort for adults offers 33 beautiful cottages and accommodations with stunning views of the Caribbean Sea.
Anse Cochon cove, a private beach on the southwest coast of Saint Lucia, is just above the resort. It's possible that you'll want to stay at the resort because this is one of the island's top snorkeling spots. Anse La Raye, a small fishing hamlet about five miles from the hotel, is a great place to get a taste of the genuine St. Lucia. French and English colonial structures may be found here along with a small port surrounded by palm trees and banana fields. The St. Lucia Hewanorra Airport is 35 kilometers from Ti Kaye Resort & Spa, and shuttle service is provided.
There are 33 cottage-style guest rooms at Ti Kaye Resort and Spa, 11 of which have their own private plunge pools. In each of the cottages or houses, the ocean is on one side and the azure waters below are on the other. Private outdoor shower, iPod dock, and a large private deck with two rocking chairs are standard features in all cottages and rooms. A maze of corridors and stairwells lighted at night provides guests with easy access to the resort.
SERENITY AT COCONUT BAY, SAINT LUCIA
A Premium all-inclusive adults-only or couples-only resort with butler service available 24 hours a day in suites or beside the pool. This hotel is perfect for people who prefer not to be disturbed, thanks to its in-suite dining, spa services, and gourmet meals brought to your room's service box.
Situated on St. Lucia's beautiful southern coast, Serenity at Coconut Bay is a refined resort that lives up to its name, offering secluded coves and first-rate personalized service.
Suites ranging from 1200 to 1900 square feet offer a private plunge pool and waterfall, hammock for two, and outside bar area, all adorned with local rock, granite, and mahogany. Bathrobes and slippers are included, as well as Molton Brown premium products and aromatherapy oils.
In-suite couple's serenity massage, Champagne and jazz sunset catamaran sail, private chauffeured island tour, beach cabana splendor, private beach lunch, and private candlelight pool cabana are all included in the $1000 Grand Romance package for customers who stay at least seven nights.
CAP MAISON, SAINT LUCIA.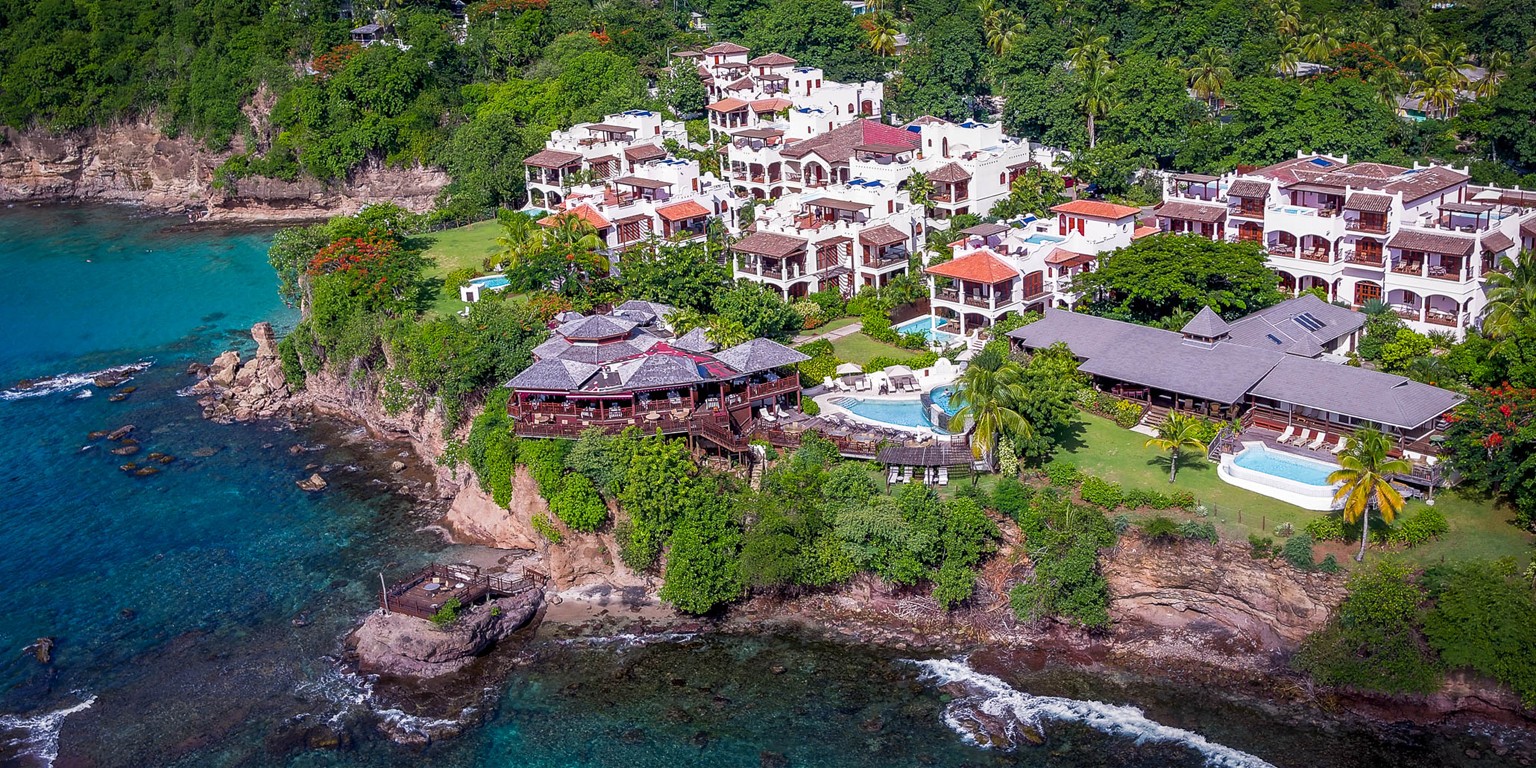 In one of St. Lucia's most sought-after neighborhoods, the Cap Maison is a sumptuous boutique hotel. The ocean and the island of Martinique may be seen clearly from here.
In addition to its breathtaking cliff-top vistas and customized service, its villa suite design is ideal for families looking for more space. Luxurious furnishings and contemporary conveniences coexist harmoniously in the hotel's exquisite and spacious rooms, which are designed in a Spanish and Caribbean style. Colonial-style wooden furniture pairs beautifully with the soft furnishings' rich materials. In addition to a stunning view of the ocean, oceanview villa suites have their own private pools or Jacuzzis. On the roofs of some, there are lavish pool decks.
It's a favorite among foodies for its high-end selection of food and drink. Contemporary food with mild French-West Indian influences is served in the restaurant's fine dining room. an unique children's menu with non-processed dishes and an emphasis on fresh vegetables and local products is available for purchase If you want to get the most for your money, consider upgrading to the All Inclusive plan.
Butlers will serve you meals on your private balcony or in the resort's tropical grounds. In-suite parties can also be catered for by the hotel's chefs.
LADERA, SAINT LUCIA
Located in a UNESCO World Heritage Site and overlooking St. Lucia's most iconic landmark, Ladera is the only resort in the area. Even though the resort's stunning vistas and prime position make it an ideal background for vacation photos, there's so much more to discover during your stay. As a result of the resort's eco-friendly philosophies, you'll feel a strong connection to the island, its people, its natural surroundings, and even to yourself.
When it comes to Ladera, the staff's seamless attention to detail is as breathtaking as the scenery. Visit the Ladera Carpentry Shop to meet the artisans who create the resort's fine hand-crafted furniture or take a walk around the botanical gardens with the gardener in charge. The superb hotel staff will take care of all your needs, from ziplining and horseback riding to morning meditations and yoga sessions overlooking the beautiful valley. We thoroughly enjoyed our tour of the local market and subsequent cooking lesson with the resort's head chef. Take a guided climb up Gros Piton, even if it's hot and steep, and we'll tell you that the views from the summit are worth it.
RENDEZVOUS, SAINT LUCIA
This all-inclusive resort for couples only is located on a two-mile length of gorgeous beach in Castries and offers a complimentary water sports and diving program in addition to first-rate amenities and personalized service.
Garden View and Beach Front rooms and suites are available, as are eight Beach Front Cottages, all of which are only steps from from the azure waters of the Caribbean Sea. King-sized beds, beautiful yet casual furniture, and a light, bright understated aesthetic characterize each of the hotel's guest rooms. The sands of your Beach Front Cottage are the softest you'll ever come across. Enjoy a beverage on your own own patio or balcony. All of the rooms are air-conditioned and have marble-covered bathrooms. There are no televisions in any of the resort's rooms, but complimentary WiFi and iPod docking stations are provided.